Area Guide - Kunisaki Course ①<K-1>
Reisen-ji Temple / Jisso-in Temple / Rokusho-gu Shrine(Ebisu-dani) ~ Saihoji no Sato ~ Ofudo Iwaya ~ Kyusento-ji Temple ~ Iwato-ji Temple
From Reisen-ji Temple/Jissoin Temple/Rokusho-gu Shrine, go through the Ureshino-goe ridge and enter the idyllic village of Saihouji.After a short rest, descend into the Amida-goe where you will find Ofudo Iwaya. Then walk to Sento-ji Temple along Route 31.After visiting Sento-ji Temple, explore the rest of the Kyusento-ji Temple ruins. These ruins are packed with sightseeing places such as the Nio statues that have been carved into one side of a monolith and the multiple five-tiered grave of Ninmon Bosatsu (a Buddhist monk).From there, walk to Gotsuji Fudo and head towards your goal of Iwato-ji Temple.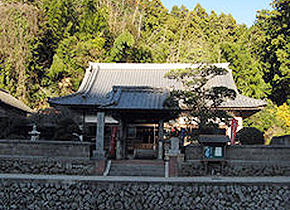 Reisen-ji Temple/Jisso-in Temple/Rokusho-gu Shrine
There are 3 temples/shrines in the Ebisu valley. It is said that Ninmon Bosatsu (a Buddhist monk) founded this temple in 718. The monolithic carved stone Jizo Buddha statue stands at a height of 4.87m high and is the largest such statue in Kyushu. Jisso-in Temple next to Reisen-ji Temple used to be one of the hall for Reisen-ji Temple, but now it is separate temple.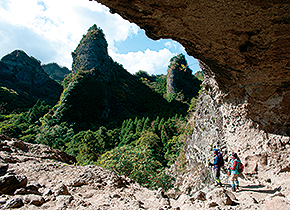 Ofudo Iwaya (cave)
From Amida-goe head 400m to the Kunimimachi Sendo area where there is a big Iwaya (cave). Inside, the open space is bright and there is a weathered stone buddha against the wall.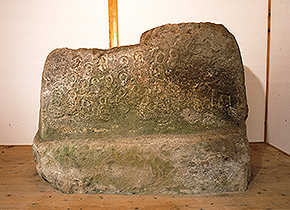 Sento Stone buddha
Built between the 11th-14th centuries, these stone Buddha are a very important cultural resource showing how Jodokyo (one off-shoot of the Buddhism religions) influenced Rokugo Manzan. One of the important Buddha, Amitabha (Amida Nyorai) has been carved into a large stone that is 160cm in width, 70cm in height and 50cm thick.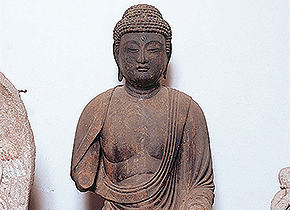 Sento-ji Temple
This large mountain temple was built during the establishment of Rokugo Manzan but later destroyed in a fire. After Sento-ji Temple's destruction, the other nearby temples banded together to continue the traditions and responsibilities of the temple. There is a Houkyouintou (stone pagoda) in the garden and inside the temple there are masks used during the 'Shujo Oni-e (a fire festival)', and an old buddha statue moved from Kyusentoji Temple.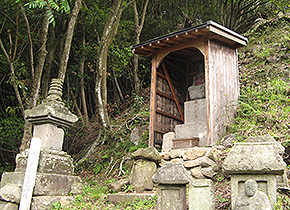 Saigyo modoshi
There is a legend called 'Saigyo Modoshi (Saigyo's return)'. Saigyo (a famous Buddhist monk born in 1118) climbed to Sentoji Temple to test the abilities of the monks from there. On his way he met one of the pupils from the temple of whom he tested. Impressed with the pupils answers, Saigyo thought "If the pupils are this impressive then the monks must be more so". Therefore he did not continue on but instead returned to his journey around Japan.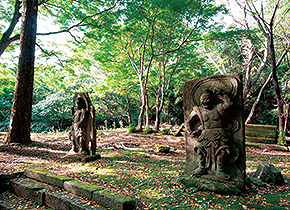 Kyusento-ji Temple
The ruins of Kyusento-ji Temple, which used to be called 'West of Koyasan', was a key temple of Rokugo Manzan. It contains the tomb of Ninmon Bosatsu (a Buddhist monk), multiple five-tiered graves and a Nio statue.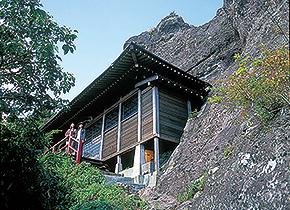 Gotsuji Fudo
This place is said to have been a secret Buddhist training site for the Buddhist monk, Ninmon Bosatsu and his 4 followers. Inside the building you can see Acala (Fudo Myoo) statue. If the weather is good then you can see Himeshima Island, the Suou coast and the Bungo channel. The site faces east offering a perfect view of the sunrise.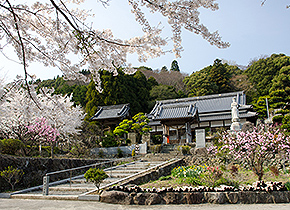 Iwato-ji Temple
On this site, built in 1283, this an elegantly shaped Kunisaki-stone tower has been designated a National Important Cultural Property and is also one of the oldest on the Kunisaki peninsula. Iwato-ji temple is also the location of 'Shujo Oni-e', a fire festival held to pray for peace. Every year the location of the festival will alternate between Iwato-ji Temple and Joubutsu-ji Temple in Kunisaki City.