Area Guide - Kunisaki Course ②<K-2>
Iwato-ji Temple ~ Daisho-ji Temple ~ Chokei-ji Temple ~ Yamaguchi-ike Pond ~ Sanjubutsu ~ Former Kuzuharu Village ~ Monjusen-ji Temple
This walking course starts at Iwato-ji Temple, the location of the elegantly shaped Kunisaki stone tower. Walk north-east on Route 544 to Chokei-ji Temple. Pass by Gaide-bashi Bridge then walk to the largest pond in Kunisaki City, Yamaguchi-ike pond. Head west and walk up along the channel of Iwato Yaba (rocky mountains). On the left side is a small path leading to the origin of the Kunoura river. Go into the mountain until you reach the old trail to Kuzuhara village. From the village will be the mountain peak from where you should go south via Konpira View Point and Gorota-daira until Fujin Iwa junction. Monjusen-ji Temple will be the goal. It is here that beautiful Ligularia Japonica flowers will be in bloom in June.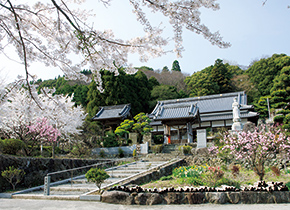 Iwato-ji Temple
This elegantly shaped Kunisaki stone tower has been designated a National Important Cultural Property and is also one of the oldest on the Kunisaki peninsula. This temple is also the location of 'Shujo Oni-e', a fire festival held to pray for peace. Every year the location of the festival will alternate between Iwato-ji Temple and Joubutsu-ji Temple in Kunisaki City.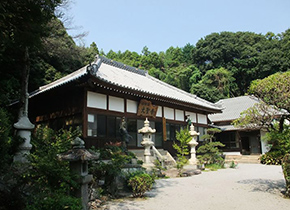 Daisho-ji Temple
Built in 1358 during the 14th century, this temple has about 200 temple towers, a stone pagoda and multiple five-tiered graves sites. The five-tiered graves located in the middle of the rice field immortalize, Kitaurabeshu, a well-known and powerful local figure during the 14th century.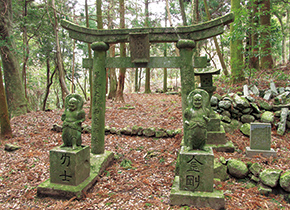 Former Kuzuharu Village
This used to be a village on the north-side of Mt. Monju and the remains of the houses and stone shrines can still be found here. There are two small guardian statues on both sides of the shrine gate. Residents lived in this village until 1955.