Area Guide - Kunisaki Course ③<K-3>
Monjusen-ji Temple ~ Jobutsu-ji Temple ~ Taishakudo ~ Jingu-ji Temple ~ Senpuku-ji Temple ~ Gyonyu-ji Temple ~ Gyonyu Dam park
From the Monjusen-ji Temple parking area, walk towards Mt. Monju until you reach Kiyotaki Kannon junction. The path to the peak will be on the right but take the left path towards Kiyotaki Kannon.After reaching Kiyotaki Kannon, walk down the concrete road towards the Kyouran area, pass by the big Houkyouintou then head east towards Jobutsu-ji Temple.After Yokote-goe ridge and Jingu-ji Temple, go down east, then head west from Jingu-ji Temple junction to Gyonyu-ji Temple. Walk along the ridge of Sen no Iwa from Gyonyu-ji Temple, where the goal will be Gyonyu dam park.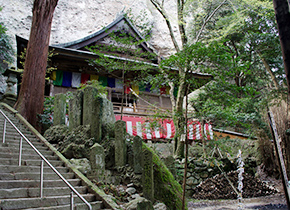 Monjusen-ji Temple
The saying 'two heads are better than one' has a Japanese equivalent ('if three people gather you will have Monju wisdom') that mentions this temple. There are many important and unique stone carved statues and towers. People can experience Japanese calligraphy (the copying of sutras), sitting meditation within the temple and enjoy the changing of the leaves in autumn.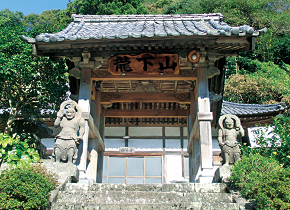 Jobutsu-ji Temple
This temple that is surrounded by rocky mountains and has been preserved by the local villagers. One of the traditional festivals held on the Kunisaki peninsula is the Shujo Oni-e' or fire festival that is held on the 5th of the lunar new year and goes from dusk till dawn. This festival was started by Ninmon Bosatsu to pray for a huge harvest and national prosperity. Every year the location of the festival will alternate between Iwato-ji Temple and Joubutsu-ji Temple.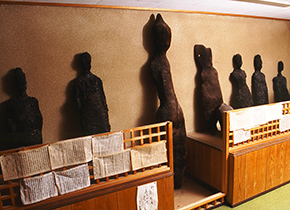 Jingu-ji Temple
This temple is very important among Rokugo Manzan and has a strong relation with Usa Jingu Shrine. There are temple treasures and burned Buddha statues in storage and you can see the tall Kunisaki stone tower behind the temple (both are Prefectural Important Cultural Properties). Esoteric Buddhist tools are also kept here, which you are unlikely to see in other places.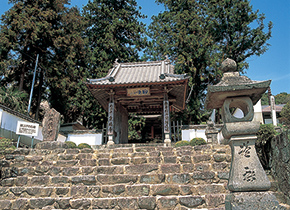 Senpuku-ji Temple
This temple built in 1375 was the first Zen temple built in the Kunisaki area. It has a Zenshu design which is not commonly found in the Kyushu area. In 1581, the Christian Daimyo, Sorin Otomo, burned down the temple though fortunately many of the Buddha statues and other structures were left undamaged and have now been designated National Important Cultural Properties.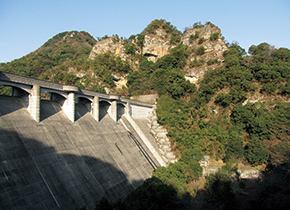 Gyonyu Dam
The area surrounding this dam has been carefully designed as a place people can enjoy all year-round. It includes a park and a mini-golf course.