Area Guide - Kunisaki Course ④<K-4>
Gyonyu dam park ~ Village of Akamatsu ~ Hazama shin-ike Pond ~ Maruono-ji Temple ~ Houon-ji Temple ~ Houon-ji Temple park
The beautiful landscape of Gyonyu dam park will be your starting point. Climb Man no Iwa via the dam and from the top you can look over the entire dam area. From here, head through the forest road to the village of Akamatsu. From the village, cross the Hazama-goe ridge from where you will see Hazama furu-ike Pond and Hazama shin-ike Pond. The area surrounding the ponds consists of vast sawtooth oak trees and is a place that conveys the charm of the GIAHS. After stopping by Maruono-ji Temple, pass through the Hoda field of shiitake mushrooms, then pass through Houon-ji Temple and Houon-ji Temple park towards your final goal for this course.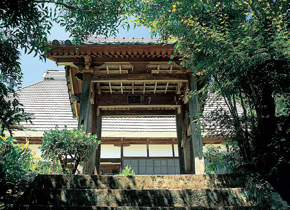 Maruono-ji Temple
This is the 16th temple of Rokugo Manzan in the Maruono area of Musashi Kunisaki City. The principle image of Buddha is Acala (Fudo Myoo). There is the Kunisaki stone tower which was designated as a City Important Cultural Property. Every year on the 15th of January of the Lunar calendar, there will be 'Maruono Kodomo Shujo Oni-e', a ceremony held to pray for national prosperity, a huge harvest and the health of children.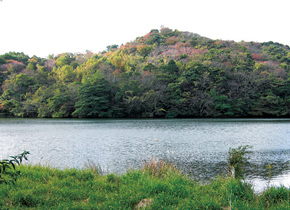 Hazama shin-ike Pond
This pond in Hazama Musashi machi Kunisaki City is one of the Kunisaki peninsula and Usa area's GIAHS. The area surrounding the ponds consists of a vast area of sawtooth oak trees, interlinked irrigations ponds, wood-log cultivated shiitake mushrooms and beautiful scenery created by the combination of clear-water lakes and sawtooth oak trees.