Area Guide - Kunisaki Course ⑤<K-5>
Houon-ji Temple ~ Gakuniwa-jinja Shrine ~ Saiko-ji Temple ~ Kouren-ji Temple ~ Former residence of Baien Miura ~ Baien no Sato
The start will be from Houon-ji Temple, famous for Musashi machi firefly festival held at the beginning of June. First, head back along the Musashi river towards the Yoshihiro riverbed and stop by Gakuniwa-jinja Shrine, famous for Yoshihiro Gaku. Enter the mountain area to the south, pass by Yoshihiro Castle Ruins, descend north towards Saiko-ji Temple, and go through a ridge to Futago valley. Before your goal of 'Baien no Sato', pass by Kouren-ji Temple, Yasaka-jinja Shrine and the former residence of Baien Miura.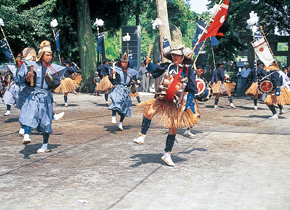 Gakuniwa-jinja Shrine
The venue for Yoshihiro Gaku (a traditional dance and music event) that has been held to pray for a huge harvest since 1390. People will dance while carrying Japanese drums and flags like samurai warriors. An event worth seeing. It is held every 4th Sunday of July, and has been designated as a National Important Intangible Cultural Folk Property since 1996.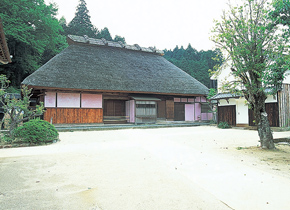 Former residence of Baien Miura
Miura Baien, known as a great philosopher and scientist, was born in 1723. His talents even spread to the areas of astronomy, biology, medicine, political economics and literature. His residence consists of a thatched roof and has been designated a National Historic site. Miura Baien's manuscripts, celestial globe and portrait are on display in his museum.