Area Guide - Kunisaki Course ⑥<K-6>
Baien no Sato ~ Ryutou Daimyoujin ~ Morotasan-jinja Shrine ~ Hashimizu Kannon junction ~ Mt.Futago ~ Futago-ji Temple
From Baien no Sato, go down east to the Asaku valley and stop by Morota-san-jinja Shrine. Go further north until you arrive at the unpaved Hashimizu forest pass. Going through the pass you will find the entrance to the mountain, then 80m on you will find a mountain road. After passing the 600m peak of Mt. Tongari, head to the peak of Mt. Fugato. From Mt. Fugato descend through the mountain ridge to Futago-ji Temple.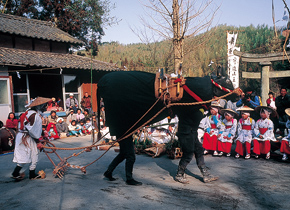 Morotasan-jinja Shrine
This shrine is famous for its humorous 'Ondaue-sai' festival which is held on the day of the spring equinox and is to pray for a successful harvest. The festival at Morotasan-jinja Shrine is unique due to the funny behavior and play like elements that are adopted. During the festival farming and harvesting actions are performed as a way to pray for a successful harvest.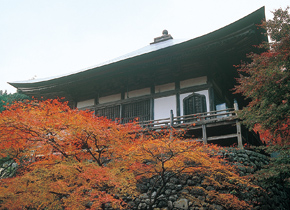 Futago-ji Temple
Rokugo Manzen temple is located half-way up Mt. Futago. It is believed that women who pray at the temple will be blessed with children. Located here are some of the biggest stone statues on the Kunisaki peninsula, statue of Acala (Fudo Myoo), Buddhist halls and colorful paintings. It is also a famous place for enjoying the changing leaves in Autumn. This is the final site for the Kunisakihantou Minemichi Long Trail.