Area Guide - Bungotakada Course ③<T-3>
Nameshi Dam ~ Choan-ji Temple ~ Tennen-ji Temple / Kawanaka Fudo ~ Mudo-ji Temple ~ Oureki-ji Temple ~ Matama Onsen Sansuiso
The trek starts from the lake side of Nameshi Dam, famous for its cherry blossoms. From the lake side, walk in the direction of the mountain towards Choan-ji Temple, known for its flower temple. While walking down the mountain trail towards the north-west, you will reach Tennen-ji Temple. In front of the temple river is Kawanaka Fudo. An Oni-e history museum where you can also enjoy handmade soba (the famous food of the area). Next head over to Tennenji Yaba and head towards the next valley temple of Mudo-ji Temple. From Mudo-ji Temple, stop at Tsubakido, Shunko-ji Temple and Oureki-ji Temple before finishing at Matama Onsen Sansuisou.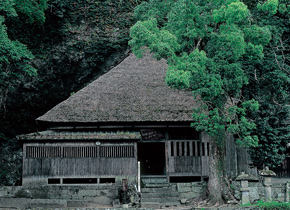 Tennen-ji Temple
It is said that Ninmon Bosatsu (a Buddhist monk) opened this temple in 718. It is also known as a mountaineering ascetic (spiritual enlightenment through mountain training) temple. Around this temple there are Important Cultural Properties such as Tennenji Yaba, Kawanaka Fudo and the Oni-e history museum. 'Shujo-Oni-e (National Important Intangible Folk Cultural Property)', a fire festival undertaken to pray for peace, is held on the 7th of the lunar new year. Disguised by the monks, the 'Oni' in this area prevent evil and bring good fortune.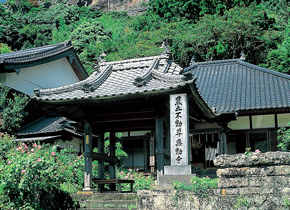 Mudo-ji Temple
During the peak period, this temple was one of the largest temples in Rokugo Manzan and includes 12 dormitories such as Tsubakido. There is a sitting Buddha of Acala (Fudo Myoo) and has been designated as a Prefectural Cultural Property. There are also many other Buddha statues.